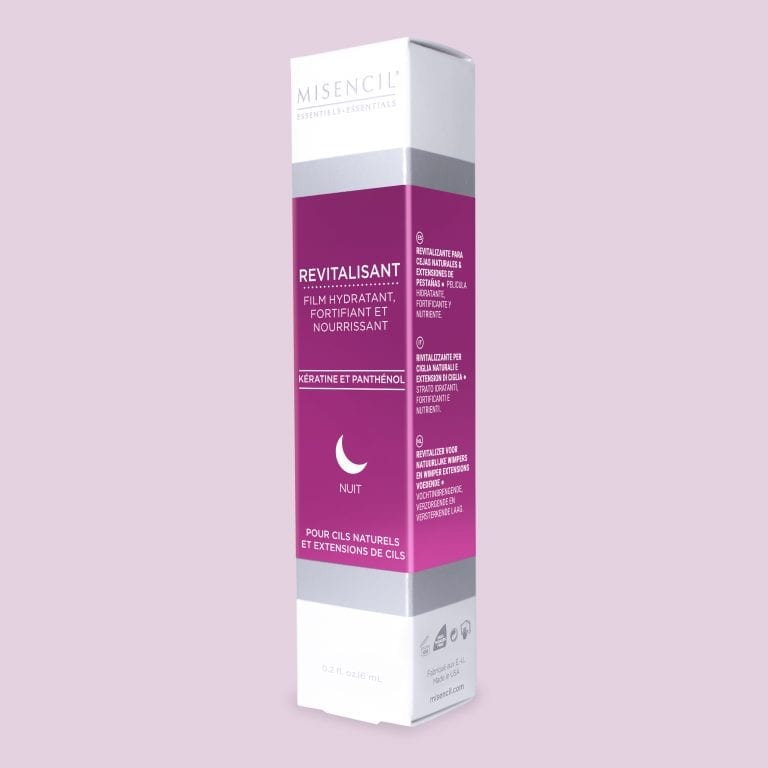 Revitalizer – Keratin and Panthenol
Moisturizing, fortifying and nourishing coating. An essential care product for natural lashes and eyelash extensions. The soothing and invigorating characteristics of keratin and panthenol bring shine, softness, strength and length to lashes and eyelash extensions. This unique complex nourishes and provides a healthier look to the extensions, which last longer and remain as beautiful as the first day.
• Brings shine and softness to natural lashes and eyelash extensions
• Brings strength and length
• Nourishes and provides a healthy look to natural lashes
• Eyelash extensions last longer
Applicator with nylon mascara brush. 0.2 Fl. Oz. / 6 ml
Film hydratant, fortifiant et nourrissant. Un soin essentiel pour les cils naturels et extensions de cils. Le pouvoir à la fois apaisant et revigorant de la kératine et du panthénol apporte brillance, souplesse, force et longueur aux cils et extensions de cils.

Ce complexe unique nourrit et procure un aspect plus sain aux extensions, celles-ci restent en place plus longtemps et demeurent aussi belles qu'au premier jour.
• Apporte brillance et souplesse aux cils naturels et extensions de cils
• Apporte force et longueur
• Nourrit et procure un aspect sain aux cils naturels
• Permet le maintien des extensions de cils plus longtemps
Applicateur avec brosse mascara en nylon. 0.2 Fl. Oz. / 6 ml