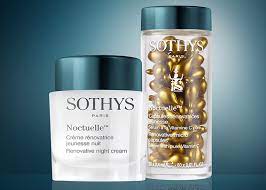 Renovative Micro-Capsules + Renovative Night Cream
Renovative micro-capsules serum with pure vitamine C:
A new step to incorporate capsules into your evening treatment ritual. These unique micro-capsules, wich are plant-based, deliver the right amount of pure vitamin C to your skin, in a velvety-soft formula.
Renovative night cream: (15 ml)
Night after night, this cream with a relaxing fragrance visibly renews your skin's youth. At the heart of its formula, the cosmetic anti-ageing power of marine collagen is boosted by marine algae, and an AHA complex + organic blackcurrant buds to revive the complexion. After a day subjected to aggression, the skin is visibly regenerated and benefits from the repairing power of the night to reveal visibly renewed skin, which appears rested and younger in the morning.
Sérum rénovateur en micro-capsules à la vitamine C pure :Une nouvelle étape pour intégrer les gélules à votre rituel de soin du soir. Ces micro-capsules uniques, à base de plantes, délivrent la bonne quantité de vitamine C pure à votre peau, dans une formule douce et veloutée.
Crème de nuit rénovatrice : (15 ml) Nuit après nuit, cette crème au parfum relaxant renouvelle visiblement la jeunesse de votre peau. Au cœur de sa formule, le pouvoir cosmétique anti-âge du collagène marin est boosté par les algues marines, et un complexe AHA + bourgeons de cassis bio pour raviver le teint. Après une journée soumise aux agressions, la peau est visiblement régénérée et bénéficie du pouvoir réparateur de la nuit pour révéler une peau visiblement renouvelée, qui paraît reposée et plus jeune le matin.