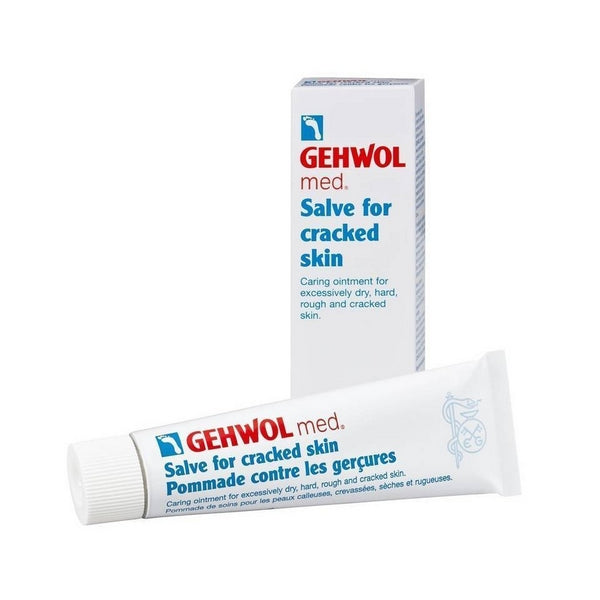 Med Salve For Cracked Skin
Gehwol Med Salve for Cracked Skin is based on a well-tried mixture of special soaps and selected skin-friendly oils. It contains an effective combination of natural essential oils, the skin-caring vitamin Panthenol and the anti-inflammatory chamomile component Bisabolene.
Results: By regular use your skin will regain its natural elasticity and resistibility and will be protected. Cracked skin, reddening and unpleasant side effects produced by that will be prevented in particular. Dermatologically tested. Also suitable for diabetics.
Pommade contre les gerçures. Pommade de soins pour peaux calleuses, crevassées, sèches et rugueuses.

GEHWOL med Pommade contre les gerçures élaborée sur une base de savon médical et de graisses choisies pour leur bonne tolérance cutanée, contient une combinaison efficace d'huiles essentielles naturelles, de panthénol - une vitamine soignant la peau - et de bisabolol, un composant de la camomille aux vertus anti-inflammatoires.

En application régulière, elle protège la peau et lui garde son élasticité et sa résistance naturelle.

Surtout les gerçures et rougeurs, ainsi que leurs désagréables conséquences sont efficacement évitées. Testé dermatologiquement. Convient également au diabétiques.
Size: 75ml